Are you considering visiting a dental center in Turkey for teeth implants, veneers, crowns, teeth whitening, or another dental treatment?
Istanbul is now one of the most popular places in the world for low-cost dental treatments, especially for people who live in Northern European countries such as Britain, Ireland and Germany. Situated in the heart of Istanbul, our dental clinics merges low prices and high levels of clinical excellence to create an unbeatable dental tourism destination.
#1 Cost
The main reason to travel for dental treatment in Turkey is the price. Patients can save 50-70% on UK and US dental prices. Of course, the more extensive and costly the treatment, the more you stand to save – and that's why Turkey teeth implants are particularly popular.
However, patients can save money by visiting a dental clinic in Turkey for other treatments like veneers, teeth whitening, and even crowns, bridges and dentures. Simply put, if your teeth are in a bad state and the work you need seems unaffordable in your home country, dental tourism could be your solution.
#2 Location
You can fly direct from London to Istanbul in just under four hours. It may not be as close to the UK as other popular dental tourism destinations like Poland, Hungary and Spain, but Turkey is still convenient to reach for dental patients from all over Europe.
Turkey has a lot to offer in terms of history, culture, shopping and beaches, so many dental patients choose to extend their trip into a dental holiday and make the most of their time in the country.
Many of the best dental clinics in Turkey are located in Istanbul, which is a popular tourist destination in its own right. For visitors heading to the beach to enjoy the Mediterranean climate, there are also clinics in the south-coast city of Antalya and other coastal resort towns.
3# Standards, qualifications and regulation
The growth of dental tourism in Turkey is not just down to price; the industry also relies on its dentists maintaining high standards to ensure a good reputation. Over half a million tourists visit the country each year for medical treatment including dental work and cosmetic surgery.
Dentists in Turkey must train for five years at one of the country's 15 schools of dentistry. After obtaining their DDS degree they may specialise with a further five years' education in the fields of orthodontics or prosthodontics.

Dental education and legislation is regulated by the Ministry of Health (Sağlık Bakanlığı), and dentists practising in Turkey must have a qualification recognised by this body.
They must also register with the Turkish Dental Association (TDB), an organisation which monitors dental practices and helps develop the profession through continuing education. Currently over 26,000 dentists in Turkey hold this membership.
Popular Dental Treatments in Turkey
Whatever work you're having done, research the procedure carefully so you know what to expect. This will also help you make important decisions along the way.
Dental implants
As explained above, dental implants in Turkey cost as much as 70% less than the price you might have been quoted at home, which is why they are such a popular treatment.
Depending on the type of implants you're getting and any preparatory treatments you need (such as extractions, a bone graft or a sinus lift), you'll need to make two or three visits for your implants. Each of these will probably require a stay of several days or a week. Your dentist will explain more about your treatment plan according to your individual needs.
For slightly quicker treatment you might opt for All-on-4 full mouth dental implants which require fewer implant rods in the jaw than traditional types. They are also a cheaper option, but they're not right for everyone. Find out more in our guide to All-on-4.
You might be able to save thousands of pounds by getting dental implants abroad in Turkey, especially if you need a full mouth of new teeth. However, don't forget to factor in the cost of your flights, food and accommodation for each trip when working out whether your dental holiday is really worth it.
Veneers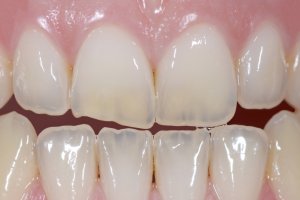 If you don't need implants but do want a straighter or whiter smile, veneer prices in Turkey make them much more affordable than in the UK. Getting veneers in Turkey usually only requires one visit, but if your veneers are being made in a lab (as is the case with porcelain veneers) you'll need to wait while this is done.
A quicker alternative is a type of veneer which can be milled or 3D-printed on-site, making the process much faster. These dental veneers typically cost more, but the quicker process means you can return home sooner. Read our full article on veneers to discover more about the pros and cons of the different options.
Teeth whitening
The cost of teeth whitening in Turkey means you could save hundreds of pounds on professional in-clinic treatment. However, the savings probably aren't big enough to justify a trip for teeth whitening alone. If you're on holiday in Turkey anyway, it's certainly worth looking into.
Other treatments
Although there is a big market for cosmetic dentistry in turkey, people also come for less glamorous treatments including:
crowns

root canals

dentures

bridges

extractions

fillings
ARRANGEMENTS:
MCT asists you to search for flights and accommodation in Istanbul, all you have to do is ask! Many of our patients combine their treatment with their family holiday while others choose to have a short break, complete their treatment and return home. If it is a holiday or a short break you are looking for, Istanbul has it all to offer.